What are Dental Implants?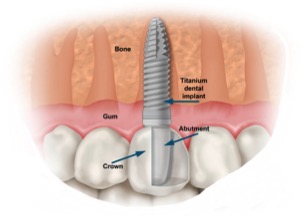 Dental implants are replacement of the tooth and the tooth roots. It provides a strong support for fixed or removable replacement teeth that are made to match your natural teeth.
Dental implants are permanent and designed to fuse with bone and in most cases anyone can be considered for Dental Implants.
If you have lost a tooth or more our new Ferrari Technology will give you a perfectly aesthetic result with a one day treatment guaranteed for a lifetime.
Our best dental implant in Lebanon is composed of three parts:
• The titanium cylindrical implant.
• The abutment.
• The crown made to match your natural teeth.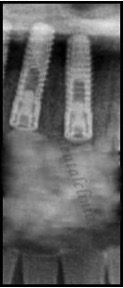 Our best Dental implants center in Lebanon offers you appropriate solutions in the aesthetic zone. It may be single tooth replacement or multiple replacements assisted with the laser technology.
There are 3 steps for dental implantation:

First step: It consists of surgically burying the Implant with the bone underneath the gum. The reason it is under the gum is to protect the implant from force while it is Healing.
By the end of the healing period, some of the overlying gum; which are covering the implant; should be removed surgically helping the implant to be exposed.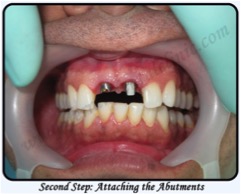 Second step: The Doctor checks the implants for its successful combination with the bone, because sometimes the bone rejects the implant. In that case we re-implant and wait to see if it accepts the implant. When the bone accepts the implant at that time we connect the abutment to the implant. There are many forms of abutments, it can also be custom molded by the dentist or the Laboratory based on the patients case.
The gum is left for 4 to 5 weeks which allows the healing around the abutment.
During these 4 – 5 weeks we put temporaries on the abutments (fake teeth) until the next appointment, which takes us to the third Step.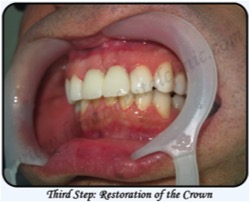 Third Step: Once the implants heal and have been tested for successful integration, the final restorative step takes place.
In this stage the fabrication and connecting the prosthetic teeth to the successfully osseointegrated implants take place.
What are the Advantages of Dental Implants?
There are many advantages to dental Implants, including:
• Improved Appearance
• Improved speech
• Improved Comfort
• Easier eating
• Improved self-esteem
• Improved oral Health
• Durability
• Convenience